Last night, Ubisoft officially detailed its plans for the Rainbow Six Siege Crossplay and Cross-Progression program at the E3 2021 press conference.
It's been over six years since Rainbow Six Siege was launched back in 2015, and so far, over 70 million players have played the game. Siege is officially Ubisoft's longest-running and most popular multiplayer title. Now, let's have a look at how cross-play and cross-progression will expand this game.
How Cross-Play and Cross-Progression is Supposed to Work in Siege
The Rainbow Six Siege Crossplay will work in two different platform groups. The first platform group includes PC, Stadia, and Luna. Players of these three platforms will be able to play with/against each other once the cross-play feature becomes available.
The second platform group includes PlayStation and Xbox consoles. This means all players from PS4, PS5, Xbox One, and Xbox Series X|S will experience a united matchmaking system and can play with/against each other.
When it comes to cross-progression, there are now platform groups. The game will feature cross-progression across all platforms. So, if you get Renown or R6 Credits on a platform, you will have it on another platform with the same account. This will probably require players to sync all their platform accounts with one Ubisoft Connect account.
When Will Cross-Play and Cross-Progression Be Available?
On June 30 this year, Cross-Play and Cross-Progression will be activated for the PC platform group. Earlier in 2022, Cross-Play will be available for Xbox and PlayStation consoles and then Cross-Progression will be enabled across all platforms.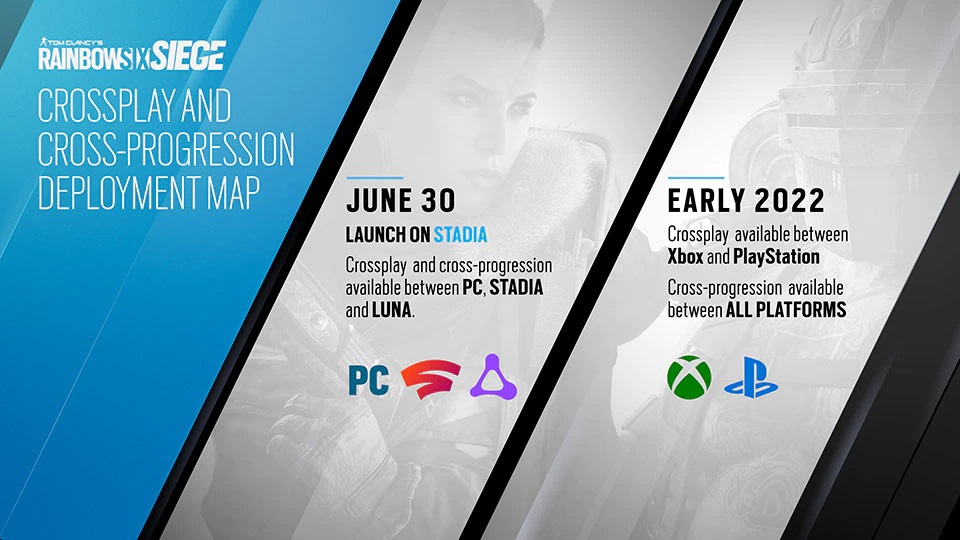 Rainbow Six Siege Operation North Star will officially go live on June 14 across all platforms. The new season delivers Thunderbird as a new operator, reworks the Favela map, and fixes some gameplay issues like bullet holes.
Rainbow Six Siege is now available on PS4, PS5, Xbox One, Xbox Series X|S, and PC. It's also available on the Xbox Game Pass library.