Star Atlas is a play-to-earn project that was originally announced several months earlier, but the game itself launched over a week ago. So, if you wonder how to play Star Atlas and what you need to get started, we have a full guide here for all beginners.
Similar to most play-to-earn games, Star Atlas requires an initial investment to settle things down, and once you have all the requirements, you're ready to earn crypto! But, what's the initial cost, and how much you can earn from Star Atlas in a day or even in a year?
How to Play Star Atlas
Playing Star Atlas needs a few requirements that we have listed below:
Requirements
A Solana-based wallet such as Phantom
A small amount of Solana in your wallet for paying gas fees
First of all, you need a Solana-based wallet, for which you have plenty of options like Phantom, Solflare, and Sollet.io, but our recommendation is Phantom as it's more popular and easy-to-use much similar to MetaMask. All you need to do is to download and install the browser extension of the wallet and then create a new account. Make sure to write down your 12-word key somewhere safe!
Once done, send a small amount of Solana to your new wallet. To do so, you can open your Phantom wallet, go to Deposit, search for Solana and select it. Now, you will receive a wallet address.
READ

: How to Buy Steam Gift Card Using Bitcoin, Supported by Binance Pay
You can send the aforementioned address a small amount of Solana like 0.1 SOL from any third-party crypto trade center that supports the SOL-based transaction. For example, you can use Gate.io or FTX. Just make sure that when sending your Solana to your Phantom wallet choose SOL as your transaction network.
Getting Started in Star Atlas
Now that you have all the requirements, head to the Star Atlas webpage to set up your gaming account. On the bottom left corner of the screen, click on Connect Wallet and then connect your Phantom wallet into the game.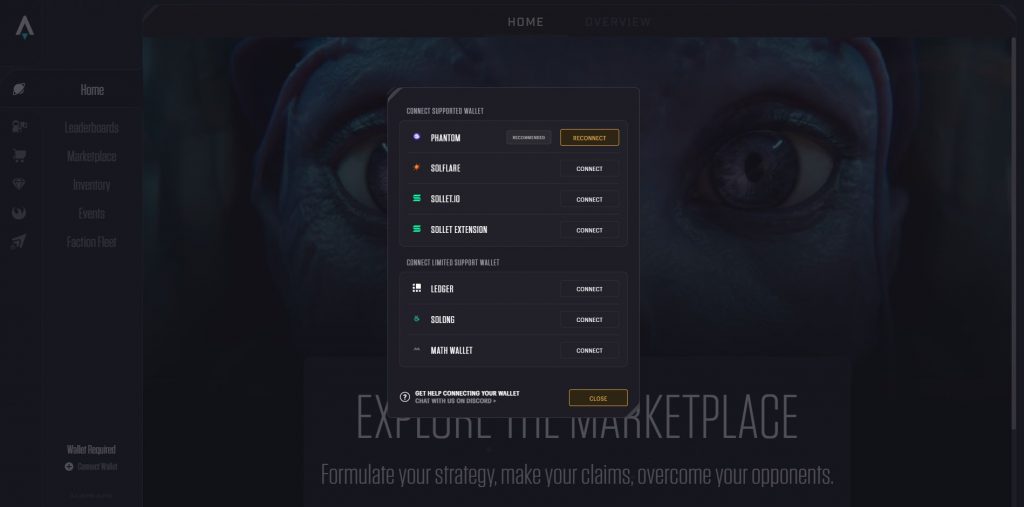 Now, it's time to choose your Faction. Currently, the game features only three Factions that each one specializes in certain areas. At the moment, all Factions almost work the same, but depending on the Faction you choose, you will be able to take part in some faction-specific missions in the future. Also, each Faction will have access to a certain amount of raw materials much easier than others. In the future updates of the game, you can collect raw materials and craft new items, or you can just sell them. Keep in mind that you CANNOT change your Faction in the future.
Once you select your Faction, you will need to pay a small gas fee, and then you are good to go!
Purchasing Your First Spaceship
This is where the real work begins! In Star Atlas, you should own at least one spaceship to be able to send it on missions and earn money out of it. Currently, there is a wide variety of spaceships in the game, and the cheapest one will cost you 20 USDC or a bit higher than 200 ATLAS.
Each spaceship that is enlisted for a mission will reward you in ATLAS each day, but it will also have maintenance and resupplying costs. Currently, there are four types of resources that an enlisted spaceship will require: Fuel, Food, Ammo, and Repair or Toolkit.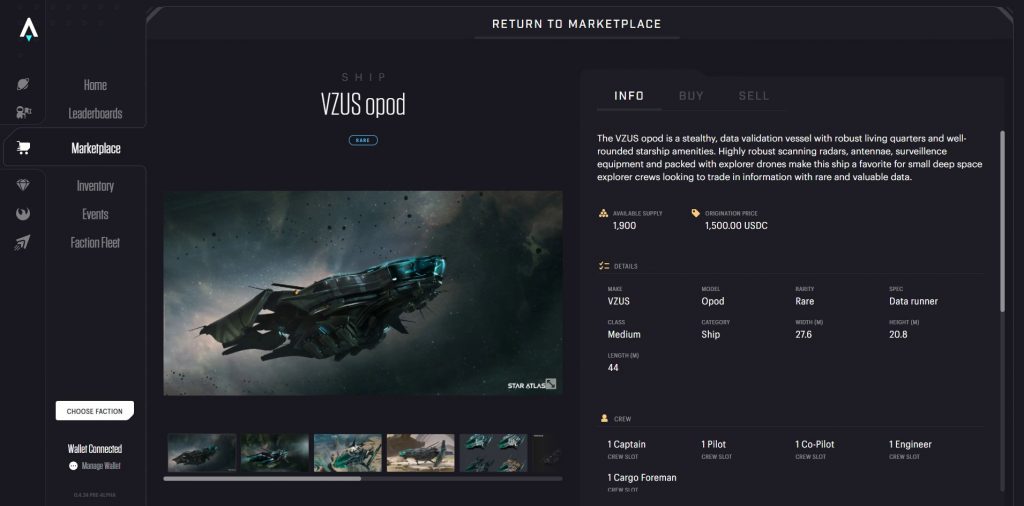 Each spaceship has a different efficiency rate for the aforementioned resources. So, your $20 worth spaceship might require 0.15 ATLAS worth resources every day and earn 0.95 ATLAS daily, whereas a high-end spaceship could earn over 100 ATLAS per day, though the daily maintenance cost would be higher correspondingly. But at the end of the day, owning a high-end spaceship will be much efficient than a cheap one as it could generate higher revenue.
Unfortunately, you cannot check out the efficiency rate of a spaceship in each resource category before purchasing it. This is absolutely a real downside for Star Atlas at the moment, so you actually don't know the ship that you're going to purchase will require more food or more fuel. You can only guess it by having a look at the spaceship's details and components in the trade menu.
Enlisting an Spaceship and Earning Money
Once you purchased a spaceship using either USDC or ATLAS, you can enlist it. When you enlist a spaceship, it should never run out of required resources, which means you need to recharge every resource before it runs out. For cheaper spaceships, you will need to visit the game and recharge some resources every day by purchasing some amount of that resource, but it takes a few days or even a few weeks for high-tier spaceships to run out of resources.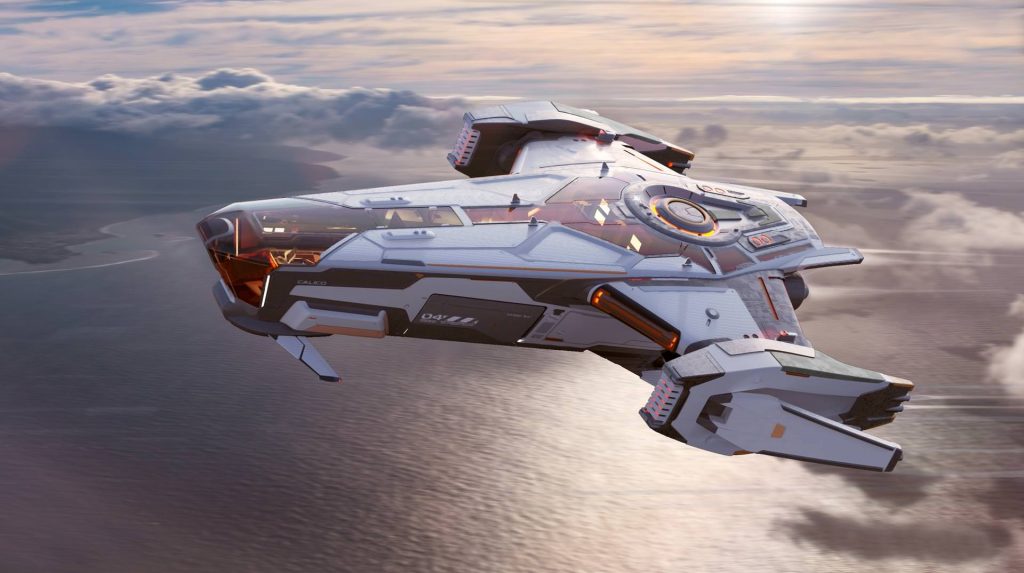 Please do note that if your spaceship runs out of resources and you don't recharge it in time, the enlistment will be canceled and you won't earn anything until you resupply the spaceship and enlist it again.
How Much You Can Earn in a Day
Before going into the details, our calculations are based on ATLAS, but if you want to know how much it is in US Dollars, you can have a look at its price on Coin Market Cap.
The fee for each unit of each resource varies from 0.0006 ATLAS to 0.006 ATLAS. At the moment, the daily maintenance cost of the game's cheapest spaceship, Opal Jet, is around 0.125 ATLAS per day, whereas the spaceship earns 0.95 ATLAS per day. So, you will actually earn 0.825 ATLAS per day after the maintenance cost.
On the other hand, with a mid-tier spaceship such as Calico Compakt Hero, you could earn 146 ATLAS per day while your daily maintenance cost would be around 28 ATLAS. So, you will earn around 118 ATLAS per day with this $3520 worth spaceship, which is a considerable amount!
Whenever your ship gets damaged, you will need to repair it, which is an additional maintenance cost. Now, we don't know the amount of Toolkit you're going to need for repairing the spaceship, but the fee for the Toolkit resource is similar to Ammo. So, you should decrease your final revenue by this hidden percentage as well, but it won't be too much.
What Are the Risks of Investing in Star Atlas?
Similar to all crypto projects, Star Atlas could be a risky investment as well. As always, we strongly suggest you do your own research before spending anything on this project as we are only providing a guide for those who are interested and not advising or suggesting anything.
Star Atlas is a play-to-earn game, but the change in the price of ATLAS over time could directly affect your revenue from this game. While it could be bullish, it could be bearish, or it could remain stable for a long time. This is a huge risk in this project. Also, the fact that you cannot fully analyze spaceships before purchasing is another risk. So, we suggest you watch some YouTube videos and pay attention to the resource efficiency of spaceships that people own in the enlistment menu.