G2 Esports have been way under expectations in the Rainbow Six Siege EUL 2022 Stage 2 so far, but they still have a chance to qualify for Six Major Berlin, and on paper, they have an easier path ahead compared to some of their important competitors.
After five playdays in EUL 2022 Stage 2, G2 Esports rests at 8th place on the table with 4 losses and only a single win. After three consecutive losses in the first three matches against Wolves, Rogue, and BDS, G2 eventually secured a win in Week 4 against NAVI, which could be proven as an important win for G2 if they manage to win their remaining games.
READ: Azami Would Be Useless In Rainbow Six Siege If Nerfed
Unfortunately for G2 fans, there was no winning streak for the new European super-team as they took another loss in Week 5 against MNM Gaming.
While this loss made many fans disappointed about the presence of G2 at Six Major Berlin, the European team actually has a good chance of qualifying for the next big tournament of Siege if they could rise up from the dead.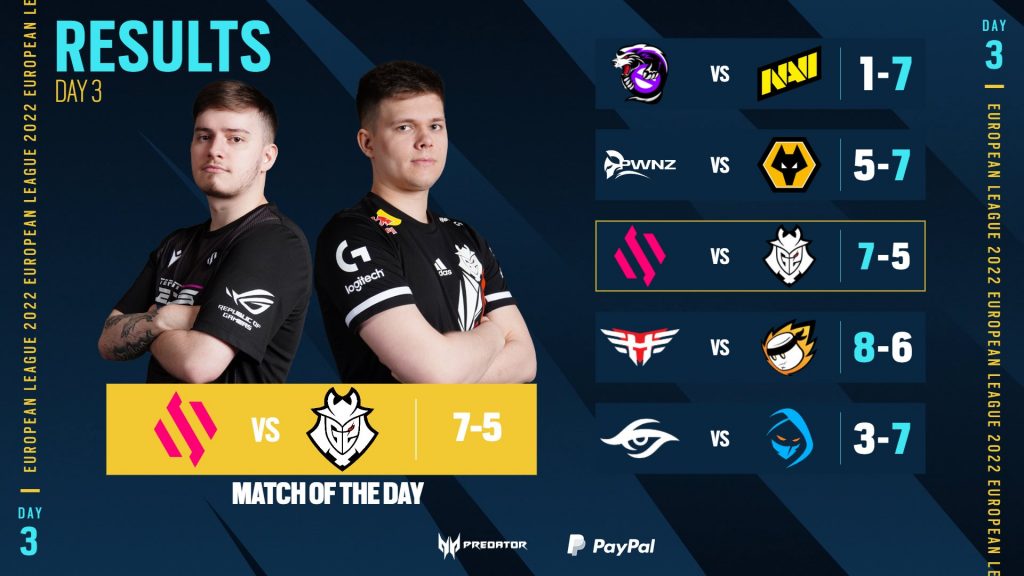 Three of G2's remaining games are against the teams at the bottom half of the table, and the final match is an important game against Heroic that could really shoot G2 to the top 4 if they win it.
In theory, If G2 Esports manage to get all the 12 points out of the remaining games, they will have 15 points in total. The minimum result to get the three points out of a match is a 7-5 win. If G2 win all the upcoming games 7-5, their round difference will sit at -2.
Now, if NAVI and Heroic both lose six points in the upcoming matches, that puts G2 head-to-head against these two teams with equal points, but calculating every result as 7-5, will put Heroic and NAVI in a better position compared to G2. So, it is clear that G2 needs to win matches with a greater round difference in the upcoming games.
Heroic and NAVI are yet to play against each other, and it guarantees a loss for one of them. Now, if Heroic lose to NAVI, then G2 have the chance to win over Heroic in the final playday and put them behind.
Coming to MNM Gaming and Team BDS, the two other threats to G2's qualification for Six Major Berlin, both teams will have to play against each other, which means one of them will take a loss. It's better for G2 that BDS lose points, as the French team will also need to play against Wolves Esports and Rogue, two difficult games that might not be easy for them to win.
European League - Stage 2
With the theory above, Heroic and Team BDS should no longer be an issue for G2, but MNM and NAVI still remain above G2. Luckily for G2, MNM and NAVI have not played against each other yet, and this means one of them will have to take a loss in Playday 6. Also, NAVI has a match against Wolves Esports in Playday 7, which could put them aside as a threat to G2 even earlier than Heroic.
Now, the only competitor to avoid G2 from finishing in the top 4 is Outsiders. Although G2 has not played against them, but even a perfect win will still put the Outsiders above G2 with one more point. Outsiders will be playing against Wolves Esports, Heroic, and MNM Gaming. As much as it is important for G2 that Outsiders win against Heroic and MNM, it is also important that they lose against Wolves.
I know it seems so complicated and optimistic, but it does mean that G2 still have a chance to finish in the top 4, and it mostly depends on their own performance in the remaining games. If they win the next 4 games and earn all the points, only a little bit of luck could take them to Six Major Berlin.
G2 are lucky that they have to deal with bottom-half teams while their competitors have some difficult games up ahead, and it puts them in a privilege in the race for Six Major Berlin qualification.